Sterling Ruby
Sterling Ruby né en 1972 à Bitburg en Allemagne d?un père américain et d?une mère Hollandaise, il passe son enfance dans la ferme familiale en Pennsylvanie avant d?emménager en Californie.
Il grandit sur la côte Est des Etats Unis d?Amérique, où il continua ses études.
Après avoir terminer ses enseignements à la Pennsylvanie School of Art et design, Lancaster, il fut diplômé en 2001 de l'École de l'Art Institute de Chicago. Il a ensuite assisté Mike Kelley à la Art Center College of Design, Pasadena, suivant un programme de maîtrise en Californie mais il ne finira pas ces études.
1992 ? 1996 Pennsylvania School of Art & Design, Lancaster, PA
2000 ? 2002 The School of the Art Institute of Chicago, Chicago, IL, BFA
2003 ? 2005 Art Center College of Design, Pasadena, CA, MFA

Sterling Ruby est aujourd?hui l?un des artistes les plus importants sur la scène artistique internationale.
J?ai choisi de présenter l?exposition
« Softwork »
qui fut la première exposition personnelle en France de Sterling Ruby.
C?est aussi la seconde version d?une installation présentée au Centre d?art contemporain de Genève, en 2011.
Sous le commissariat de Florence Derieux, directrice du Frac Champagne-Ardenne à Reims, cette installation conçue pour le lieu présente plusieurs nouvelles pièces d?un ensemble de travaux commencé en 2005 par l?artiste, qui jusque là utilisait plutôt des matériaux solides. Son ?uvre fini, comprend tout à la fois des céramiques biomorphiques abondamment vernies, des sculptures en uréthane expansé, des toiles peintes au spray, des dessins au vernis à ongles, des collages,vidéos hypnotiques, etc?
Ces sculptures monumentales, pop et ludiques, sont également l'occasion de questionner l?espace et la notion de « genre ».
Ici, Cousues avec différents tissus rembourrés, colorés, parfois peints, récupérés ou achetés, certains avec le drapeau américain. A première vue, l?installation semble amusante, pleines de couleurs vives, des ?uvres et installations utilisants tout un espace, nous transportant dans ce monde onirique, plein de ludisme et d?insouciance.
Je cite : « Mais rien de si doux dans cette exposition, car le propos est très radical ».
En effet, cette installation est composée de dizaines de bouches de vampires accrochées aux murs. Nous pouvons apercevoir leurs dents, desquelles coulent des larmes rouges ; rouge en référence à la société de consommation. Sterling Ruby explore des thèmes tels que la société de consommation, des loisirs et du spectacle, la sexualité et l'enfance ou le Pop Art.
Images courtesy of Bonniers Konsthall, Stockholm. Photos by Olle Kirchmeier and Robert Wedemeye
L'artiste transforme oreillers, couvertures, couettes et des objets de confort dans des objets sculpturaux inquiétantes qui font allusion à la possibilité que la sécurité s?est une illusion . Le drapeau américain est utilisé comme matériau, de gigantesques animaux en peluche obèses pendent du toit comme des cadavres macérés .
An expression of repressed violence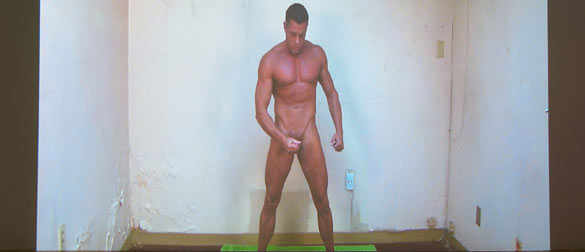 The masturbation
Le corpus qu?il développe depuis une quinzaine d?années, parfois un peu trash, permet d?envisager une lecture de la société américaine extrêmement critique et lucide comme nous avons aussi pu le constater dans l?exposition « Soft Work » plus douce et moins génante que cette exposition ci-dessous.
Cette installation The Masturbators(2009) exposé à Berlin, montre neuf pornstars en train de se masturber face caméra. Rejouant avec beaucoup d?ironie la figure de l?artiste performant seul dans son studio.
Sterling Ruby pose ici un regard pour le moins décalé sur l?industrie pornographique florissante en Californie, en soulignant la vacuité de l?action de ses acteurs, tout autant que les codes de la masculinité qu?impose notre société ? des corps bodybuildés des différents protagonistes.
Supermax
Exposition réalisé par Sterling Ruby
SUPERMAX 2008: huitième épisode de la série de MOCA qui sont des expositions d'?uvres d'artistes émergents en Californie du Sud .
Présenté au MOCA Pacific Design Center , l'exposition mettra en vedette de nouveaux travaux dans une installation spécialement conçue pour l'espace . Les ?uvres de Sterling Ruby dans le collage, la céramique , la vidéo et la sculpture plaqueur reçu notions de tropes esthétiques et les stéréotypes sociaux qui sont basés sur les signes visuels .
Souvent de taille monumentale , les ?uvres de Sterling immergent le spectateur dans des ensembles de codes formels et gestes qui se réfèrent à des phénomènes éphémère , la transgression , et de transfert qui sont sociale et psychologique , physique et affectif
. Sterling Ruby Monument Stalagmite/Everyday Carry, 2012. Tube de PVC, mousse, bois, peinture aérosol et
formica / &#820
PVC pipe, foam, urethane, wood, spray paint and formica, 541 × 101.6 × 160 cm. Photo : Robert Wedemeyer, Los Angeles. Courtesy the artist and Xavier Hufkens, Brussels.
Divers expositions:
2013
Contemporary Future: To Invent, Create and Imagine the Future, CAB Art Center, Brussels, Belgium
The Gesture and the Sign, White Cube, São Paulo, Brazil
Black Cake, Team Gallery, New York, NY
Museum Dhondt-Dhaenens, Ghent, Belgium (solo)
SOFT WORK, Museo d?Arte Contemporanea, Rome, Italy (solo)
CHRON II, Fondazione MEMMO, Rome, Italy (solo)
Sterling Ruby, Kukje Gallery, Seoul, Korea (solo)
EXHM, Hauser & Wirth London, England (solo)
2012
Bonniers Konsthall, Stockholm, Sweden (solo)
SOFT WORK, FRAC Champagne-Ardenne, Reims, France (solo)
SOFT WORK, Centre D?Art Contemporain, Geneva, Switzerland (solo)
California, Charles Riva Collection, Brussels, Belgium
Crossing Mirrors, Rosenblum Collection & Friends, Paris, France
Americas, Modern Collections, London, UK
Cellblock, curated by Robert Hobbs, Andrea Rosen Gallery, New York, NY
Spring Fever, Tony Shafrazi Gallery, New York, NY
The Mash Up: Collage from the 1930?s to present, L&M Arts, Los Angeles, CA
Painting Factory, Museum of Contemporary Art, Los Angeles, Ca (cat.)
Phantom Limb: : Approaches to Painting Today, Museum of Contemporary Art, Chicago, IL
Paintings from the Rubell Family Collection, Fundacion Banco Santander, Madrid, Spain (cat.)
2011
American Exuberance, Rubell Family Collection, Contemporary Arts Foundation, Miami, FL (cat.)
VAMPIRE, The Pace Gallery, Beijing, China (solo)
Sterling Ruby & Lucio Fontana, Andrea Rosen Gallery, New York, NY
I AM NOT FREE BECAUSE I CAN BE EXPLODED ANYTIME, Sprüth/Magers, Berlin, Germany (solo)
PAINTINGS, Xavier Hufkens, Brussels, Belgium (cat.) (solo)
Structure & Absence, White Cube, London, UK (cat.)
New Works in Ceramics, Toyota Municipal Museum of Art, Tokyo
Soft Machines, The Pace Gallery, New York, NY
George Herms: Xenophilia (Love of the Unknown), Museum of Contemporary Art, Los Angeles, CA
The Shape of Things to Come: New Sculpture, Saatchi Gallery, London, UK
At Capacity, Museum of Contemporary Art, Miami, FL
Silence and Time, Dallas Museum of Art, Dallas, TX
The Roller Shutter Project, Art Production Fund & The New Museum, New York, NY
Dystopia, CAPC Musee D?Art Contemporain De Bourdeaux, Bourdeaux, France
Lustwarande 2011-Blemishes, Park De Oude Warande, Museum De Pont, Tilburg, Netherlands
New York Minute, curated by Kathy Grayson, The Garage: Center for Contemporary Culture, Moscow, Russia
California Dreamin?-Myths Legends of Los Angeles, Almine Rech Gallery, Paris, France
Aftermath, Taka Ishii Gallery, Kyoto, Japan
2010
Painting Extravaganza, Cardi Black Box, Milan, Italy
50 Years at Pace, The Pace Gallery, New York, NY (cat.)
Rive Gauche/Rive Droite, Marc Jancou Contemporary, Paris, France (cat.)
Endless Bummer/Surf Elsewhere, Blum & Poe, Los Angeles, CA
Permanent Mimesis: An Exhibition on Realism and Simulation, Galleria Civica d?Arte Moderna e Contemporanea, Torino, Italy (cat.)
Psychedelic: Optical and Visionary Art since the 1960?s, San Antonio Museum of Art, San Antonio,Texas (cat.)
Permanent Trouble: Art from the Collection Kopp Munich, East German Art Forum Gallery, Regensburg, Germany (cat.)
Metal Works, Xavier Hufkens, Brussels, Belgium (solo)
ASHTRAYS, Galerie Pierre Marie Giraud, Brussels, Belgium (cat.) (solo)
New Works,Taka Ishii Gallery, Tokyo, Japan (solo)
2TRAPS, The Pace Gallery, New York, NY (solo)
2009

Robert Mapplethorpe/Sterling Ruby, Xavier Hufkens, Brussels, Belgium (cat.)
The Masturbators, Foxy Production, New York, NY (solo)
Beg, Borrow, and Steal, Rubell Family Collection/Contemporary Arts Foundation, Miami, FL (cat.)
Why Painting Now?, Blondeau Fine Art Services, Geneva, Switzerland
New Photography, Museum of Modern Art, New York, NY
New York Minute, curated by Kathy Grayson, produced by the Depart Foundation, Macro Future Museum, Rome, Italy (cat.)
Works on View, Jack Shainman Gallery, New York, NY
Second Nature, The Valentine-Adelson Collection at the Hammer Museum, Hammer Museum, Los Angeles, CA
Abstract America: New Painting and Sculpture, Saatchi Gallery, London, United Kingdom (cat.)
Five, Baibakov Art Projects, Red October Chocolate Factory, Moscow, Russia
Modern Mondays: An Evening with Sterling Ruby, Museum of Modern Art, New York, NY
2008
Dirt on Delight, Institute of Contemporary Art, Philadelphia, PA and Walker Art Center, Minneapolis, MN (cat.)
Spectrum Ripper, Sprüth/Magers, London, United Kingdom (solo)
Grid Ripper, Galleria d?Arte Moderna e Contemporanea, Bergamo, Italy (solo)
Zen Ripper, Galleria Emi Fontana, Milan, Italy (solo)
Supermax 2008, Museum of Contemporary Art, Los Angeles, CA (cat.) (solo)
Kiln Works, Metro Pictures Gallery, New York, NY (solo)
Chron, The Drawing Center, New York, NY (cat.) (solo)
Begin Again Right Back Here, curated by B.Wurtz, White Columns, New York, NY
If You Destroy the Image You Destroy the Thing Itself, Curated by Solveig Ovstebo & Steinar Sekkingstad, Bergen Kunsthall, Norway (cat.)
Substraction, Deitch Projects, New York, NY
Skat Players, Vilma Gold, London, United Kingdom
Stray Alchemists, Ullens Center of Contemporary Art, Beijing, China (cat.)
2007
POST ROSE, curated by Sterling Ruby, Galerie Christian Nagel, Berlin, Germany
Stuff: International Contemporary Art from the Collection of Burt Aaron, Museum of Contemporary Art, Detroit, MI
Seattle Art Museum at 75, Seattle Art Museum, Seattle, WA
I Want to Believe, Galerie Eva Presenhuber, Zurich, Switzerland
Mixed Signals, Ronald Feldman Fine Arts, New York, NY
Paintings & Benches, Galerie Christian Nagel, Berlin, Germany (solo)
Slasher Posters & Pillow Works, Bernier/Eliades, Athens, Greece (solo)
Superoverpass, Foxy Production, New York, NY (solo)
Killing the Recondite, Metro Pictures, New York, NY (solo)
Interior Designer, Marc Foxx, Los Angeles, CA (solo)
Recombines, Galleria Emi Fontana, Milan, Italy (solo)
Supermax 2006, Galerie Christian Nagel, Köln, Germany (solo)
2006
Red Eye: L.A. Artists from the Rubell Family Collection, Rubell Family Collection/Contemporary Arts Foundation, Miami, FL (cat.)
California Biennial, Orange County Museum of Art, Newport Beach, CA (cat.)
Behind the Pedestal, Jonathan Viner, London, United Kingdom
Back From the End of the Earth, Galerie Ben Kaufmann, Berlin, Germany
Into Black, Western Bridge, Seattle, WA
LA Trash and Treasure, Miliken Galerie, Stockholm, Sweden
2005
Having New Eyes, Aspen Art Museum, Aspen, CO
T1-Turin Triennial: The Pantagruel Syndrome, Galleria Civica d?Arte Moderna e Contemporanea, Torino, Italy (cat.)
Voiceovers, Los Angeles Contemporary Exhibitions, Los Angeles, CA
5 X U, Team Gallery, New York, NY
Supermax 2005, Marc Foxx, Los Angeles, CA (solo)
This Range, Guild & Greyshkul, New York, NY (solo)
Adjoining The Voids: Sterling Ruby & Kirsten Stoltmann, Sister, Los Angeles, CA (solo)
New Work, Foxy Production, New York, NY (solo)
Resonance, Netherlands Media Art Institute/Montevideo, Amsterdam, Netherlands
GEO, Foxy Production, New York, NY
Face-Off, Ronald Feldman Fine Arts, New York, NY

2004
21st Kasseler Documentary Film and Video Festival, Filmladen Kassel, Kassel, Germany
Chicago Expérimental, Les Musees de Strasbourg-Musée d?Art Moderne et Contemporain, Strasbourg, France
Tapestry from an Asteroid, David Kordansky Gallery, Los Angeles, CA
Interior Burnout, 1R Gallery, Chicago, IL (solo)
Disintegrating Identities Morph into One Solid Rainbow, Foxy Production, New York, NY (solo)
Blinky 2, Tate Britain, London, United Kingdom
2003
Behind the Pedestal, Bower Gallery, San Antonio, TX
Hysterical Pastoral, The Ukrainian Institute of Modern Art, Chicago, IL
Fiction In Video, WORM, Nighttown Theater, Rotterdam, Netherlands
Collections publiques
The Museum of Modern Art, New York, NY
Solomon R. Guggenheim Museum, New York, NY
Los Angeles County Museum, Los Angeles, CA
Hammer Museum, Los Angeles, CA
The Dallas Center for Contemporary Art, Dallas, TX
Orange County Museum of Art, Newport Beach, CA
The Seattle Art Museum, Seattle, WA
---